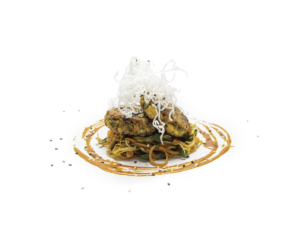 Serves 4
Tofu cakes:  250g firm tofu (coarsely grated).  4 heaped tbsp coriander (finely chopped).  Zest of 1 lime, juice of half.  1 bunch spring onions (sliced into rounds).  100g french beans (finely chopped).  1 ½ tbsp miso.  1 tbsp gochunjang.  1 green chilli (finely chopped).  1 garlic clove (grated).  2cm piece of ginger (peeled and grated).  50g rice flour, plus extra for dusting. 2 tbsp oil for frying.
Pre-heat oven to 180 deg cel. Combine all the ingredients ( apart from the flour and oil) in a bowl, and mix thoroughly, then sprinkle in the flour and mix again. Leave to firm up for 30 minutes, then shape into 8 small flat cakes, and dust with the extra rice flour on both sides. Heat the oil in a frying pan to a medium high heat, then add the cakes. Lightly colour on both sides, then place in the oven for 5-8 minutes.
For the bibimbap dressing: 2 tablespoons gochunjang.  1 tablespoon miso.  3 tablespoons sesame oil. 2 tablespoon sugar.  2 tablespoons water. 1 tablespoon cider vinegar.  1 clove minced garlic. Juice of 1 lime. 2 tablespoon soy sauce.
Combine all ingredients, and mix thoroughly. Adjust quantities to make milder or spicier.
For the salad: 100g mooli, peeled.  100g  carrot, peeled. 100g cucumber, peeled. ½ bunch rocket, washed.
Spiralize the mooli, carrot and cucumber. Dress the vegetables with the bibimbap dressing 15/20 minutes before serving, add the rocket just before serving.
For the crispy rice noodles. 15 g rice noodles.  Salt.  Oil for deep frying.
Heat the oil to 180 deg cel. Deep fry noodles in batches, and drain on kitchen paper. Season.
Garnish with toasted black and white sesame seed.