On Friday my daughter asked if I could take her to the Circus. "The UKIP Party conference ended yesterday" I suggested although I'll gladly take you to Zippo's on Hampstead heath.
After the big top extravaganza we picked a fantastic crop of apples from the tree in our garden, making an apple tray-bake together.
A 27cm x 20cm tin was lined with parchment paper; the apples were peeled, cored, thinly sliced, and covered in lemon juice. Soft unsalted butter was mixed with caster sugar, eggs, vanilla, flour and baking powder to create a sort of batter, half of which which formed the base. Apples formed the middle layer with the second half of the batter creating the top, which was then sprinkled with the demerara sugar.
Zippo's circus was pretty cool with trapeze artist's, motorcycle stunt riders a strong man being run over by a truck. I also amazingly clocked and a middle-aged Polynesian couple without kids enjoying the show, properly circus weird. By contrast Godfrey Bloom MEP with the child-like attitude, (and man who referred to the whole of Africa as Bongo Bongo land) used his party's convention to describe all women that attended as sluts. It did make me think that perhaps we'd be better off with coco the clown representing us in the European parliament.
Ingredients:
450g cooking apples
juice of ½ lemon
225g unsalted butter, softened
280g golden caster sugar
4 eggs
2 tsp vanilla extract
350g self-raising flour
2 tsp baking powder
Demerara sugar to sprinkle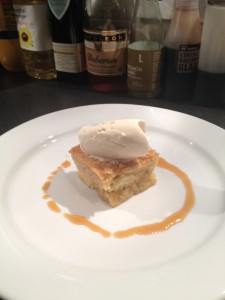 For the opportunity of winning a FREE PASTA MACHINE all you need to do is 'like' our page and encourage your… http://t.co/KSZr5irDlq

— Underground Cookery (@cookinglesson) October 14, 2013